Most Americans take some form of vacation every year. I have had "staycations" instead of vacations for a very long before this was even thought of by most as a politically correct option. I did this because there was no such thing as extra money in our home. Money was spent on school supplies for my children (i.e. shoes kids out grew, backpacks, etc.), food, doctor visits, and my medicine.
If we were lucky in the summer we took day trips in the area, mostly to things that were free (gas costs money, no surprise there!). As far as actual vacations, we tagged along with my sister's family and my mother down to the Outer Banks; we to the shore with my husbands family, and we took the kids to Williamsburg. In 29 years other than our honeymoon, that's pretty much it on vacations. But this week I need a vacation from my illness.This past week was a horrible week for me; I needed a break from being sick, even if it was for a couple of hours.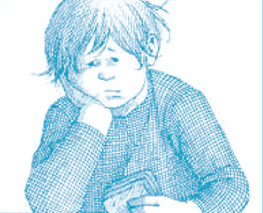 Sketch of Alexander having a horrible day.*
Source
As I love crafts and art projects, my daughter, Chrissie and I headed off to one of the two Arts & Crafts chain stores in Lancaster Pa. We had our choice between Michaels (which tends to be less busy because it is the newer of the two stores) or A.C. Moore. These two stores are actually located across the parking lot from each other. I wasn't in the mood for long waits in line or lots of noise so we choose
Michaels
.
At this point in time I didn't know that I made the best choice I ever could have made. Michaels has perks that AC Moore just doesn't have.Count yourself lucky if you have Michaels in your area (No more AC Moore for me!). Not only is Michaels a great arts and craft stores in general, but in my experience, I have never found a store that was better equipped or more customer friendly for disabled customers.
The handicapped parking at Michaels is actually adequate for the store (well, accept on Saturday mornings after-all no place is perfect ). They have a checkout line for those in wheelchairs. The handicapped bathroom is clean.The aisles are wide enough for wheelchairs and keep reading because even better things were to come. It was at Michaels that I had a lovely break from my Mixed Connective Tissue Disease and for a change I didn't have a Migraine.
The Manager on duties name was Misty Mutz. She found me a wheelchair and it even had a basket that went over the top of the chair. Unlike most store wheelchairs, this one wasn't old and rickety. The chair was comfy and sturdy. Misty asked me what I was looking for and took the time to push me to where I wanted to go and then she pushed me to go to look for my next item. I felt bad that I was taking up her time. I'm sure you've heard the old break up line, "Its not you, its me"; as I didn't want to take up any more of her time I told her I could get where I was going on my own. Although, I would have loved to have spent the afternoon with her for she was a most pleasant person. Shortly after Misty left, my daughter returned from her wandering.
We had so much fun. At times, my daughter became "pushy" as she pushed me around the store. At other times, I raced up and down the isles just because I could be in a store and get around by myself. Although, I was in a wheelchair I totally forgot about having Mixed Connective Tissue Disease until I was totally worn out from racing about in the wheelchair.
During my time at the Michaels, I laughed and giggled like a kid. I flapped butterflies through the air; believe it or not phobic me even touched and played with stuffed plush spider and made fun of myself. Not once did I think about doctors, medications, illnesses, or would I be hurting from the activity that I did tomorrow.I enjoyed the happy present that I was in.
Living completely in the moment, when things especially when things are going well (you should try to live in the moment most of the time; however, when having a painful procedure it is helpful to think that it will be over soon...) I think this is the key to taking a break from my illness and living in joy. I need to fully live in these happy moments whenever they present themselves. I can't change the past. I really have no control over the future. Yes, I can try to influence it by taking my meds and taking the best care of myself possible but other than that it is the best I can do. SO if I ever feel like the boy, Alexander, and I am I'm having a terrible, horrible, very bad...I think I'll move to Australia kind of day...I think I'll take an illness break an perhaps go to Michaels again. Then I can go shopping for art projects; if I'm very lucky I can go wheelchair racing in the isles while my daughter tries to keep up on her two legs against my 2 wheels.
One of my favorite books when I was young.
Source*